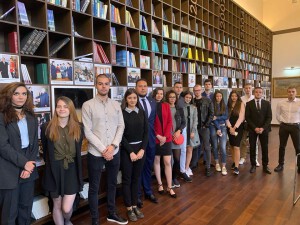 On  the 15th of October 2019, a visit of the first-year students at UNWE from the Department of Political Science, organized by the International Relations Research Student Association (IRRSA), took place at the Presidency of the Republic of Bulgaria.
We were welcomed by representatives of the Strategic Policy, Analysis and Forecasts Unit as well as by interns at the Institution. We had the opportunity to have a discussion with them and to get to know from the inside the building of the Institution.
This was an opportunity for the freshmen to take a closer look to the role and duties of the President of the Republic of Bulgaria, as well as to the role of the Institution itself.