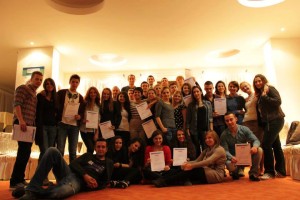 Representatives from IRRSA took part in Youth in Action project  created by the Macedonian  organization "Mladinski sojuz". The project was held in Krusevo, Macedonia  between 10th and 18th of October 2013. The countries that took part in the project were Albania, Bosnia, Bulgaria, Croatia, Germany, Greece, Romania, Serbia, Turkey, Ukraine and FYR Macedonia.
The aim of this project was to introduce the topic of youth social entrepreneurship to young people and to discover the potential of new ideas in that sphere.
Using the methods of non-formal education the organizers had managed to increase the interest of the participants in the topic. During the week they had spent in Krusevo the participants were separated several times into different working groups. This method helped the participants to realize how it feels to work with different people and also to create a cohesive and well-functioning team. The program of the project was well built and the balance between working hours and free time has been accomplished. At the beginning the participants were acquainted with the essence of the program "Youth in Action" and its Actions which create new opportunities for development for young people. During the next days the participants were working in that field discussing the meaning and  the common terms used with reference to social entrepreneurship. In the last three days the participants had to work in teams again and to lay their attention on the creation and evolution of their own ideas of social enterprises. The method used by the organizers of letting the groups to work alone upon their ideas was innovative and successful. At the last day of the project the working teams officially represented their ideas using presentations and blogs.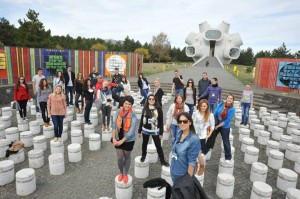 As a result of the project the participants from IRRSA share that they have returned with knowledge not only into the sphere of youth social entrepreneurship but with such into the process, leading to the realization of a functioning enterprise or organization. They say that they  had the chance to enjoy the beauty of the small town Krusevo, as well.