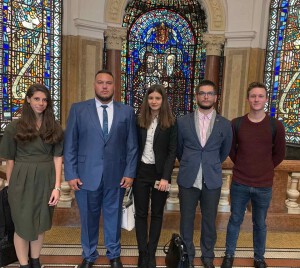 On the 5.10.2019 The International Relations Research Student Association had the pleasure to be amongst the Student Council at Sofia University, Student Council at UNWE, Student Club of Political Science at Sofia University, EGO Politiko, Student Council at VUTP, Student Council at AMA, Student Council at UACEG, Student Council at the University of Sofia "Lyuben Karavelov" and the UNWE Debate Club, and to be one of the co-organizers of a public discussion on the topic "Sofia after the elections", held at the "Aula" of Sofia University.
The participants who took part were the independents Boris Bonev of "Save Sofia" and Maya Manolova supported by BSP, architect Borislav Ignatov of Democratic Bulgaria, Angel Dzhambazki of VMRO, unfortunately Yordanka Fandakova could not attend the debate due to last minute work engagements and was substituted by Yelen Gerdzhikov of GERB, who is the chairman of the Sofia City Council.
The discussion was interesting and fruitful, with answers and suggestions on important topics such as redevelopment of Student City, the growing need of more parks, air pollution, night city transport, street lighting, etc.
We hope that the dialogue on the topic for the future of the capital will continue after the local elections!
We would like to remind you that anyone who wishes to vote in Sofia, although they do not have a permanent address here, can do so by submitting an application –