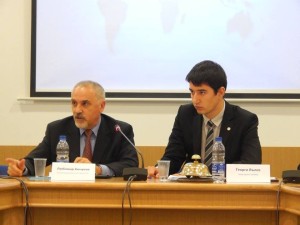 The International Relations Research Students Association(IRRSA) and  The Bulgarian Diplomatic Society(BDS) , initiated a series of events for students entitled "Bulgaria and current challenges to international security". The international situation today raises a number of questions about the security of Bulgaria to the EU and NATO. The crisis in the Middle East has formed the intervention of the US coalition against the Islamic state and simultaneously put under  refugee pressure not only countries of the region but also those of the EU, including Bulgaria. While events in Ukraine led to a review of relations between the West and Russia and exacerbated the problem of the EU energy dependency on Moscow. This can lead to a reassessment of the policy of enlargement of the European Union.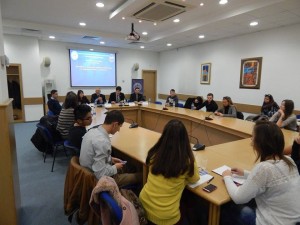 Each of the three events consisted of the following parts - a guest lecture by Bulgarian Diplomatic Society, statements that previously requested by the participants completed application form and discussion and questions to guest speakers and participants on the basis of their statements.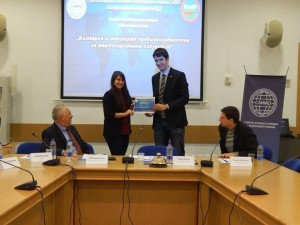 Guest speakers on various topics were: Lyubomir Kyuchukov, director of the Institute of Economics and International Relations (enlargement of the Union to the Western Balkans), Dr. Petio Petev, director of "NATO and regional security" at the Foreign Ministry (Crisis in Ukraine and the future of NATO) and Krasimir Kostov, Director of "Bilateral European cooperation" in the Ministry of Foreign Affairs (change of power in Brussels and the new challenges facing the EU).