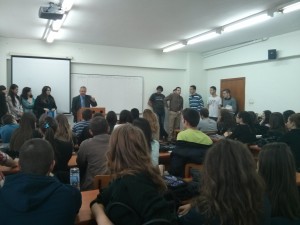 This year IRRSA and Ego politico kept the tradition and organized a Quiz in "History of the political ideas" for the freshmen in professional field "Political science" in the UNWE. The event took place on the 2
nd
of December in 5008 hall in the university. Five teams, each with five members, took part in the quiz. As in the previous years there were three rounds. In the first one two contestants from each team had to answer a question with
true
or
false
. The other three participants from each team took part in the second round, where they had to choose a right answer from four options. In the final round every contestant from each team had to answer a question from the so called "open type". The first three teams were awarded with diplomas.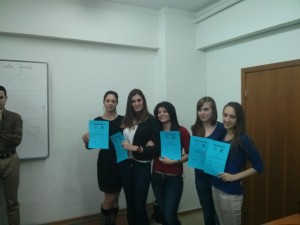 First place took the team of: Dayana Kocheva, Iva Yordanova, Tsvetelina Ruskova, Viktoriya Kolarova and Gabriela Mincheva. The second place was for: Milena Yordanova, Stela Tuparova, Teodora Maneva, Monika Georgieva and Pavlina Kostadinova. The third place was won by the team of: Damyana Doncheva, Valeriya Yasibash, Mehmed Nedzhib, Teodor Valkadinov, and Boris Stoyanov. On the 4
th
of December IRRSA held a quiz of similar type in the "European integration" discipline for the students of the second year students from the same professional field. This time there were only two rounds. In the first, every contestant had to give an answer to a question with three options. In the second – every team member had to answer an "open question". Again the first three teams were awarded degrees and as a bonus the first team was released from the exam in the discipline with an excellent grade and the other two teams – with a very good grade.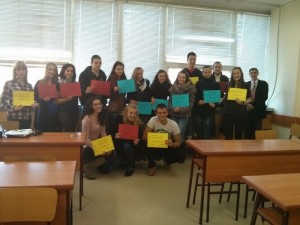 The first place was taken by the team of: Georgi Valev, Lora Andreeva, Diana Asparuhova, Diana Mitsina and Malina Kulina. The second place was for the team of: Marina Marinova, Viktoriya Mincheva, Mariya Tahtadzhijska, Mariya Georgieva and Mariya Chinkova. Third place was won by the team of: Boyan Stavrev, Gabriel Georgiev, Liubomir Vasilev, Radoslava Stefanova and Hristiana Plamenova.