The International Relations Research Students Organisation (IRRSA) organized The International Students Day for a second consecutive year. The event was held on 20 March in The University of National and World Economy. Last year's event was organized after a six years pause and rejoiced a great interest from students from foreign countries. This year the students from IRRSA made the event happen again supported by The Students' council in UNWE and The Students Mobility Centre. The event attended the deputy rector Prof. Ognyan Simeonov. The start was made by the Deputy Chairman of IRRSA Bilyana Krasteva, Ass. Prof.Vera Pirimova and the Chairman of the Students' Council Antoan Shotarov.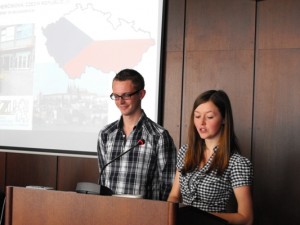 Three of the international students in the UNWE involved in the Erasmus program shared their experience with short presentations - Eva Hertzikova from Czech Republic, Valerian Lamur from France and the Bulgarian Radost Pesheva who is studying in Italy but has her Erasmus program in Bulgaria. All of them compared the facilities in their university and The University of National and World Economy. All of them emphasized on the welcoming attitude to them.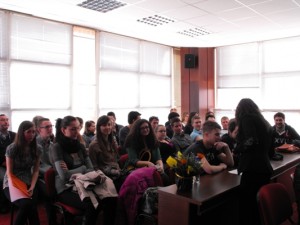 The chairman of The Erasmus Students Network Ms. Nora Tineva presented some of the elements of the program and gave useful information for the international students. The director of 'International students' department Mrs. Anita Tzaneva introduced the new website. It was specially developed for international students and contains useful information about administrative procedures, lections and tips for life in Sofia. Traditionally, the students with excellent marks were awarded from IRRSA and ESN. Their number has increased to 10 compared to 6 in the last year's event.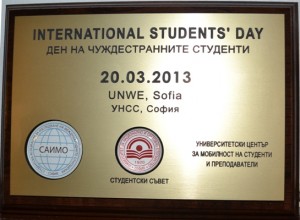 In the end of The International Students' Day the international students had a cocktail party and shared their impression.