IRRSA became part again of a youth exchange project under the Erasmus + Programme.
This time it took place in Spain and was entitled "Your is my future". The main aim of the project was to provoke young people to find different solutions of the problem called "youth unemployment". The event startedon 6th of March and ended on 15th the same month. Six countries participated- Bulgaria, Romania, Italy, Portugal, Lithuania and Croatia. The leaders of the project and also excellent guides were young Spanish people. The atmosphere was extremely friendly and appropriate for discussions connected not only with the unemployment but with various problems that youngsters face today.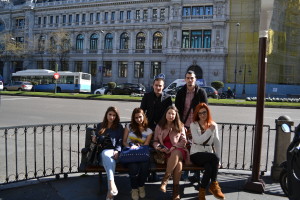 The schedule was well-balanced between serious work and entertaining visits. We spend the first three days in Madrid in order to do some sightseeing and to get acquainted with each other. The rest of the project we spent in the suburbs of Madrid where we could focus on the topic of the project. Our days started with great energizers and continued with discussions about unemployment. Debates, proposals and presentations were just a small part of the whole process of finding out a solution for youth unemployment. Different views – optimistic and pessimistic, emotional and rational- were discussed in order to conclude with the positive decision that unemployment especially amongst youngsters can be defeated. We represented our summarized suggestions for solving the problem in three movies which we shot the last day. They are brief and amateur but more important they express our firm belief that job can always be found if there is persistence and enough knowledge. Moreover, if not found, job can always be created as long as we have ideas and courage.
Our daily schedule ended with National nights when all of the countries had the opportunity to represent their traditional meals, dances and customs.
This project was a great opportunity for all the participants to gain both social and cultural experience.