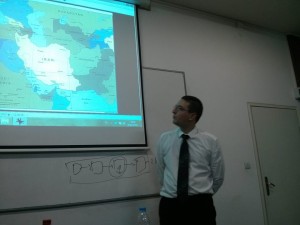 On the 25
th
of November 2013 the "United nations association of Bulgaria" and IRRSA organized a public lecture and discussion for the conflict in Syria. The UN association was represented by its chairman Petar Buchkov and Ilina Mutafchieva and IRRSA – from its chairman – Elizabet Bozhinova. Mariyan Karagyozov, expert on the Turkish-Arabic relations in the XXI century was the guest-lecturer.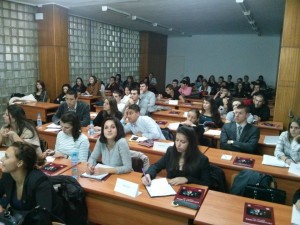 The event provoked a great interest amongst the students from both the UNWE and other universities. After some welcoming words from the chairmen of the organizations, Mr. Karagyozov made clear some little known details from the "Arab spring". He explained why the conflict started in the first place, insights on the current situation and a prediction for the outcome. A great portion of the meeting was prepared for a comment on the position of the United Nations Security Council's member countries. That had to do with the simulation-game "UN Model". The counties' representatives were given materials with which to prepare for the game.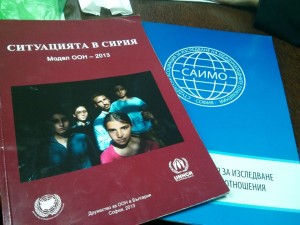 Ilina Mutafchieva commented the rules of the game and briefly explained how the event is going to pass. Of course there was also time for questions that had to do with the situation both in Syria and the other counties affected by the "Arab spring".