The title of the discussion between the members of IRRSA and the chairman of National youth forum – Liliya Elenkova was "Leadership and youth sector". The event was held on the 20th of November  in hall 5008 in the UNWE. Liliya Elenkova is a bachelor's in "Bulgarian philology" from the Sofia University "St. Kliment Ohridski" and later studied a master's degree in "Management and international projects" in the University of national and world economy.
The discussion about the leadership started with the question which famous individuals could be determined as leaders. The members of IRRSA answered Vasil Levski, Todor Zhivkov, George Washington and even Adolf Hitler. With these names the audience associated qualities such as unity, rhetorical skills and construction skills. Elenkova generalized that these people were once considered the individuals, who are going to take their country and nation away to the "bright future".  She also said that behind every leader stand a lot of people, who have believed in his cause.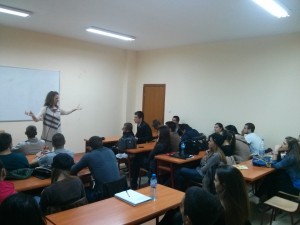 Different strategies were also included in the discussion. Liliya Elenkova made it very clear that the strategy is not setting a final goal, which to accomplish. If such a goal is set, there is no idea what comes after its realization. The strategy, according to her, is neither in the past, nor in the present, but it rather somewhat more like a path in the future.
Mrs. Elenkova talked to the audience about the youth sector as well – mostly about the organization that she represents – National youth forum, of which IRRSA is a full member. She explained how the structure works, how the decisions are made and who can make statements on the behalf of the platform that combines 35 youth organizations.